Posted on 11/14/2023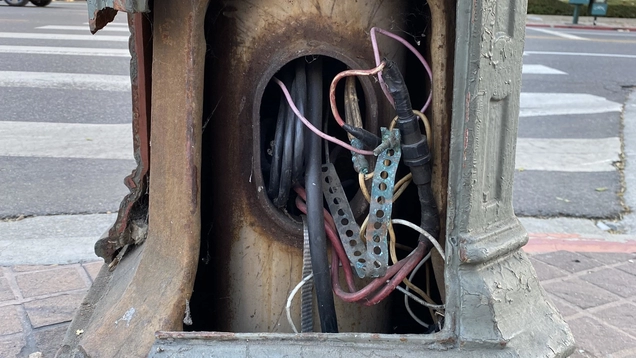 LOS ANGELES - Today, City Attorney Hydee Feldstein Soto and City Council President Paul Krekorian announced a joint initiative to address the epidemic of copper theft by cracking down on unscrupulous metal recyclers.

In partnership with the Council President, the City Attorney has now sent letters to nearly 700 recyclers throughout Los Angeles, warning them that they are required to comply with the State of California's stringent laws regulating copper sales and that the Los Angeles Police Department is authorized to inspect their records. Failure to adhere to copper-sale laws, failure to cooperate with an inspection, and falsifying or destroying records of copper purchases and sales, all carry legal penalties.

"Copper wire theft is a public safety issue that costs L.A. area taxpayers millions of dollars yearly and harms neighborhoods when street lights go out and water pipes stop working," said Hydee Feldstein Soto, Los Angeles City Attorney. "Recyclers can help eliminate the market for stolen copper, which is why my office contacted recycling centers to ensure they follow state laws regulating copper sales. I am grateful to Angelenos who have been vocal on this issue and am thankful to Council President Krekorian, the City Council, and our colleagues at the Bureau of Street Lighting and Los Angeles Police and Port Police Departments for their partnership." 

"The LAPD will work with the L.A. City Attorney's Office to provide effective enforcement when we become aware of illegal activity by crooked recyclers that are not following state law," said Deputy Chief Alan Hamilton of the LAPD Valley Bureau. 

Every day, the offices of City Councilmembers receive constituent calls reporting street light failures and other damage caused by copper theft. The Bureau of Street Lighting and the Metropolitan Transportation Authority (Metro), who are charged with tracking these incidents, have compiled and shared this data with the City Attorney's office to identify areas with highest incidence of copper theft.

"This is no longer just a matter of petty theft. This is a crime that directly impacts public safety. This is a crime that puts lives at risk. It's a crime that makes our neighborhoods darker and more dangerous," said Council President Paul Krekorian. "The business owners who trade in stolen copper are just as guilty as the thieves who steal it and we're putting them on notice that they'll be held responsible."

"To make a few hundred bucks, copper wire thieves cause thousands of dollars worth of damage and endanger communities by causing darkness that leads to car crashes and safety issues," said Councilmember Bob Blumenfield. "We must do everything possible to prevent such thefts and crack down on the thieves and the copper buyers who knowingly enable them."

"Copper wire theft has a direct and harmful impact on neighborhood safety with a single copper wire theft affecting several blocks. It's why residents must remain vigilant in reporting suspicious behavior and our city family must address this from all angles, from prosecution to fortification and expedient repairs. We are putting illegal sellers on notice and working together to provide Angelenos with the service they deserve," said Councilwoman Monica Rodriguez.

"I am very thankful to Council President Krekorian and the City Attorney for spearheading the City's efforts of eliminating the stolen copper market. Copper theft has become a rising concern across Los Angeles, and we must be proactive in ensuring the safety and security of our constituents. By tightening the reins on how copper is sold, we can hold those engaging in theft and illegal selling accountable, mitigate safety risks and keep everyone in our communities safe," said Councilwoman Heather Hutt.

"As the Councilmember of the district that was most impacted by the spike in incidents of this crime, I know all too well how difficult it has been to repair our city lights quickly and deter this crime from occurring over and over again," said Councilmember John Lee, who serves as the Chair of the City Council's Public Works Committee. "I applaud the City Attorney for her focus on addressing the other piece of this puzzle and holding recyclers accountable who are operating in bad faith and giving criminals a market where they can sell the copper they've stolen."

"We value the efforts of the City family in tackling incidents of copper wire theft from our neighborhoods and recognize the importance of stricter rules and regulations," said Fabian Cheng, Assistant Director of the Bureau of Street Lighting. "Adequate illumination in our public spaces creates a safer environment for pedestrian and vehicle traffic. These new laws and measures will ensure better public safety for residents, businesses, and visitors to Los Angeles."

In recent years, a drastic rise in the price of copper has driven a wave of theft and vandalism as thieves destroy public property to collect the metal for resale. Month after month, entire blocks of the city have gone dark at night as thieves rip the copper wire from street lights faster than the Bureau of Street Lighting can replace it. Efforts to harden the street lights and otherwise defend them from theft have achieved only limited success as thieves resort to increasingly destructive methods to harvest the copper. City parks have also fallen victim to thieves who wrench copper fixtures from park water systems. Even Metro rail crossing signals have been attacked and looted, further endangering public safety.

While it costs the City millions of dollars every year to replace these damaged utilities, each crime may yield only a few dollars in profit for the criminals who commit it. These thieves depend on a quick payout from unscrupulous recyclers who violate the State of California's strict laws regulating resale of second-hand copper. Among these requirements, by law, purchasers of second-hand copper must record the place and date of each sale, along with a government-issued photo ID, proof of address, and thumbprint from each seller, and a photograph of the metal being purchased. Sellers must wait three days after the date of sale to receive payment.

Without the promise of immediate payment, no questions asked, the thieves' profit motive will be virtually eliminated. While no one measure is guaranteed to end the illegal copper trade and keep our street lights on, shutting down the market for stolen copper will take away the thieves' incentive for endangering public safety.